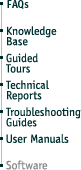 Webmaster's note: As of March, 2009, it appears that the original owners of all items below have either gone out of business or have completely and permanently abandoned all UCC/SuperMac software and support materials. Therefore, in my view, these items are now "abandonware" and can safely be provided directly on this site for the on-going benefit of SuperMac computer users.


E100 Extended Performance Card

Mac OS Licensing Extension

Video Card software

G3 Enablers for SuperMac J710

Other Utilities & Tools

www.supermac.com

Full UCC Site Archive
A raw and complete archive of the entire UCC/SuperMac website in its final incarnation on November 25, 1998.